Restart a Heart Day

Learners have taken part in 'Restart a Heart Day' for a second year running with the Welsh Ambulance Service.
The day sees training taking place across Europe in cardiopulmonary resuscitation (CPR) and aims to create a generation of future lifesavers by raising awareness of what to do if someone has suffered a cardiac arrest.
Learners from Year 7 and 8 learnt about the importance of CPR, how to recognise a cardiac arrest and what to do until an ambulance arrives. They learnt how to check for signs of life, practised their mouth-to-mouth skill on inflatable mannequins and how to perform chest compressions. The learners also had opportunities to ask questions and for help from the volunteers from the Welsh Ambulance Service.
Barry Dunn, Ysgol Emrys ap Iwan Governor, said: "The learners have gained something important which they may be able to use in the future to save a life. The Year 8 learners who took part last year have clearly remembered what is involved in CPR. This is a brilliant life skill."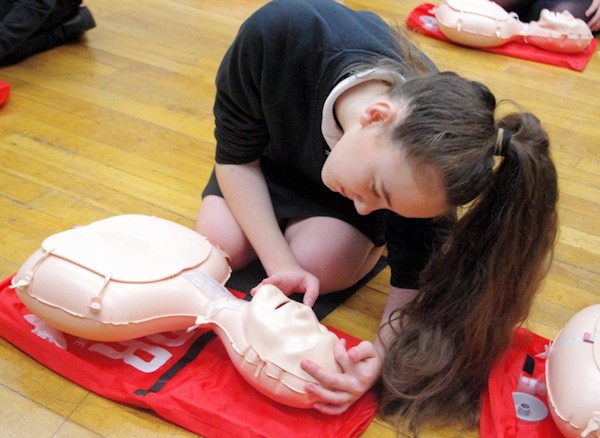 Kara Rich, Primary Care Development Lead Nurse BCU said: "The learners were very well behaved and have picked up the skills very quickly. They can teach these skills to their brothers and sisters."
TPS1850 (Temporary Police Sargent) Jason Ball added: "It's been a brilliant day. The learners were fantastic. This is a great partnership which is working towards creating more first aiders for the community."
Charlie Williams, a Year 7 learner, said: "It was a fun day and we learnt a lot"
Joseph Hunter, another Year7 learner, said: "I've learnt something that may one day save someone's life."
Oliver Scott, also from Year 7 added: "I now know what to do if I found someone having a cardiac arrest."
Jacob Riddle, one of the Year 8 learners who took part in 'Restart a Heart Day' last year said: "This was a great opportunity to refresh the skills I had learnt last year."
Danielle Whittingham, who organised the day, said: "All of the learners had a 'dare to achieve' attitude." Each learner received a certificate to acknowledge their participation in the day.