Learners in touch with history
Ysgol Emrys ap Iwan Year 8 learners were given a remarkable opportunity to immerse themselves in the history of the Great War.
They were visited by Jerry Bone, a volunteer, and Lorraine Lister, marketing officer, of Bodelwyddan Castle & Trust who gave a talk on the incredible experiences of those who fought and died on both sides during the First World War.
The learners were able to handle artefacts that included weapons and helmets recovered from the battlefields of Flanders and the Somme, as well as dress up in soldiers' uniforms and feel the vast weight of the kit carried by each man.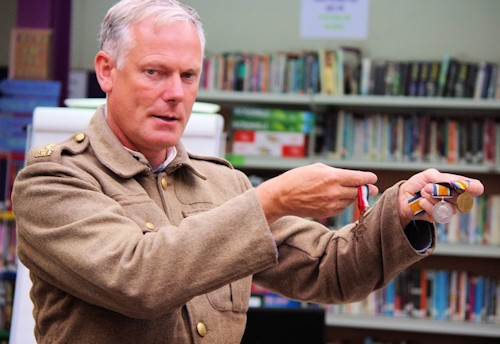 Ray Wood, Curriculum leader of Humanities from Ysgol Emrys ap Iwan said: "It was amazing that learners were able to touch items once owned by brave soldiers, many of whom were not prepared for the realities of trench warfare and who were ultimately to give their lives. The opportunity to quite literally touch the past allowed our learners to understand the real experience of war."
Mia O'Mahony, a learner who participated said: "What I'll remember most is that the youngest British soldier to go to war was only 13, which is how old we are now. It is amazing how willing people were to fight and do their bit."
Learners were also given a chance to remember those from Abergele who died in the First World War by painting poppies and the names of the fallen from the town on stones to be used in a Commemoration at the Royal Welch Fusiliers Museum at Caernarfon Castle organised by Shirley Williams.