WW1 poems and readings at Gwrych Castle
Ysgol Emrys ap Iwan learners took part in a project organised by The Gwrych Castle Preservation Trust.
The project aimed to include as many local people in the work, restoration and function of the Castle as possible. On Wednesday 4th July the culmination of six months of hard work with 16 pupils from years 8&9 at Emrys ap Iwan school came to fruition.
The Emrys ap Iwan learners are the future volunteers and workers up on the Gwrych Estate as the Trust renovates the Castle.
As it is the centenary of the end of The Great War, the plan was to look at people from the Abergele/Gwrych area using local archives. The learners were more interested in look at the mental health issues of the Great War. To help with this Stewart Harris, an ex-pupil of Emrys ap Iwan, Afghan veteran and active member of The Soldiers Charity, came to talk to them about his experiences as a soldier and of being badly injured in Afghanistan.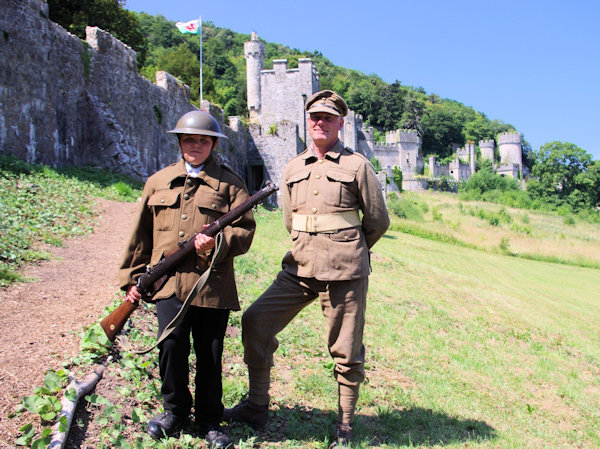 From this visit and their discussions they wrote imaginary letters from children to their fathers at The Front. Diane Woodrow, Education and Community Engagement Officer for The Gwrych Castle Preservation Trust edited and, with the help of the pupils and Arlena Thornton of ART Theatre, turned them into dramatic pieces. From this a very moving poem was created called "Escape?"
The learners acted out a play by Aaron Shepherd about the Christmas Day Truce taking the original script and making it their own.
The whole group performed a dramatic interpretation of Flander's Mud; a poem by Geoff Skellon, a local poet, about his feelings of going to Flanders in 2014, a hundred years after the start of World War One.
On Wednesday 4th July over 200 people which including pupils from Sant Elfods, St Georges, Llanfair Talhaiarn, and Betws yn Rhos, the deputy mayor, the managing director of Cartfrei, and many members of the public came to see the learners present their project in its finality.
Also on site was Bubbling Stove doing WWI demonstrations with samples of food from 1914-18 to show the change in diet and WWI solider and nurse from the Bodelwyddan Trench Experience.
Diane Woodrow said "We want to say a big thank you to Shirley Williams of both Fusion Project and the Royal Welsh Fusiliers Museum for the lone of the authentic WWI uniforms which certainly added to the atmosphere of the day."
Ms Anne Hickey, Literacy Coordinator who has been working with the learners on the project said: "The learners were amazing. They have worked really hard and shown great dedication for this project. They really got into character and performed their pieces with feeling and respect for what the soldiers and their families went through. I am immensely proud of them all"
Mr Cummins added: "This was a great piece of work undertaken by our learners and the community at large. The learners gained such a great deal from being involved in the project."