New welfare unit on roundabout field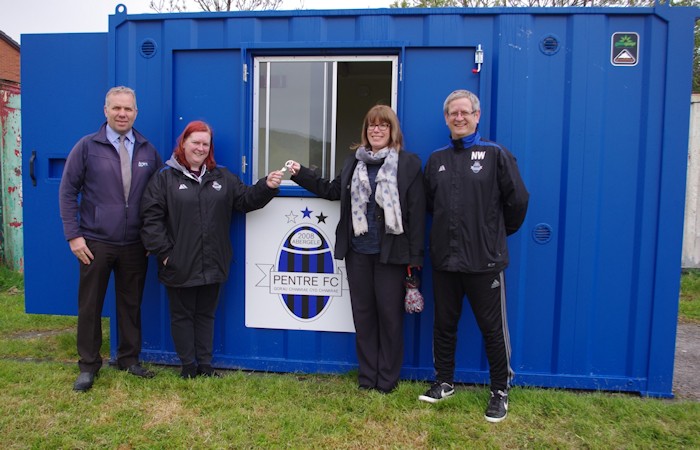 John Wilson (Anwyl Area Construction Manager), Angela Peabody (Club Secretary),

Tracy Peers (Business Manager, Ysgol Emrys ap Iwan) and Nigel Warren (Club Treasurer and Manager of U13's)
A high school and football club are celebrating the installation of a kitchenette and toilets on the playing field they share after two years of waiting.
Ysgol Emrys ap Iwan had been working with Pentre Football Club and Conwy Borough Council to obtain the facilities for the pitches off the A55 roundabout, opposite Threeways Garage.
Tracy Peers, business manager at Ysgol Emrys ap Iwan, said: "We have had a hire agreement for the use of the fields with Pentre FC for a number of years and it was through close collaboration with them and the local authority that we have sourced funding to acquire this facility.
"For a number of years, concerns have been raised by councillors representing the community over the lack of toilet provision, given the site is predominantly used by young people.
"Issues faced included sourcing funding, a change of management at Pentre Football Club and logistics of getting the unit from Port Talbot and on to the existing hard-standing area."
The unit was finally put in place with the help of housebuilder Anwyl, which provided specialist lifting equipment.
Ms Peers said: "The acquisition of this facility will prove to be an asset not just for the school but the community as a whole."